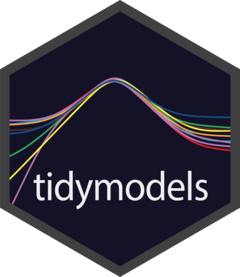 Resolve conflicts between tidymodels packages and others
Source:
R/tidymodels_prefer.R
tidymodels_prefer.Rd
tidymodels_prefer() uses the conflicted package to handle common conflicts with tidymodels and other packages.
Details
The list of conflicts includes several dozen that are known issues with other packages.
Note that the conflicted package is used to manage which packages take precedence. Using tidymodels_prefer() will turn on general conflict resolution during the R session.
Examples
tidymodels_prefer

(

quiet 

=

 

FALSE

)




#>

 

[conflicted]

 Will prefer 

agua

::refit over any other package.


#>

 

[conflicted]

 Will prefer 

dials

::Laplace over any other package.


#>

 

[conflicted]

 Will prefer 

dials

::max_rules over any other package.


#>

 

[conflicted]

 Will prefer 

dials

::neighbors over any other package.


#>

 

[conflicted]

 Will prefer 

dials

::prune over any other package.


#>

 

[conflicted]

 Will prefer 

dials

::smoothness over any other package.


#>

 

[conflicted]

 Will prefer 

dplyr

::collapse over any other package.


#>

 

[conflicted]

 Will prefer 

dplyr

::combine over any other package.


#>

 

[conflicted]

 Will prefer 

dplyr

::filter over any other package.


#>

 

[conflicted]

 Will prefer 

dplyr

::rename over any other package.


#>

 

[conflicted]

 Will prefer 

dplyr

::select over any other package.


#>

 

[conflicted]

 Will prefer 

dplyr

::slice over any other package.


#>

 

[conflicted]

 Will prefer 

ggplot2

::`%+%` over any other package.


#>

 

[conflicted]

 Will prefer 

ggplot2

::margin over any other package.


#>

 

[conflicted]

 Will prefer 

parsnip

::bart over any other package.


#>

 

[conflicted]

 Will prefer 

parsnip

::fit over any other package.


#>

 

[conflicted]

 Will prefer 

parsnip

::mars over any other package.


#>

 

[conflicted]

 Will prefer 

parsnip

::pls over any other package.


#>

 

[conflicted]

 Will prefer 

purrr

::cross over any other package.


#>

 

[conflicted]

 Will prefer 

purrr

::invoke over any other package.


#>

 

[conflicted]

 Will prefer 

purrr

::map over any other package.


#>

 

[conflicted]

 Will prefer 

recipes

::discretize over any other package.


#>

 

[conflicted]

 Will prefer 

recipes

::step over any other package.


#>

 

[conflicted]

 Will prefer 

rsample

::populate over any other package.


#>

 

[conflicted]

 Will prefer 

scales

::rescale over any other package.


#>

 

[conflicted]

 Will prefer 

themis

::step_downsample over any other package.


#>

 

[conflicted]

 Will prefer 

themis

::step_upsample over any other package.


#>

 

[conflicted]

 Will prefer 

tidyr

::expand over any other package.


#>

 

[conflicted]

 Will prefer 

tidyr

::extract over any other package.


#>

 

[conflicted]

 Will prefer 

tidyr

::pack over any other package.


#>

 

[conflicted]

 Will prefer 

tidyr

::unpack over any other package.


#>

 

[conflicted]

 Will prefer 

tune

::parameters over any other package.


#>

 

[conflicted]

 Will prefer 

tune

::tune over any other package.


#>

 

[conflicted]

 Will prefer 

yardstick

::get_weights over any other package.


#>

 

[conflicted]

 Will prefer 

yardstick

::precision over any other package.


#>

 

[conflicted]

 Will prefer 

yardstick

::recall over any other package.


#>

 

[conflicted]

 Will prefer 

yardstick

::spec over any other package.


#>

 

[conflicted]

 Will prefer 

recipes

::update over 

Matrix

::update.


#>

 ── 

Conflicts

 ────────────────────────────────────── tidymodels_prefer() ──


#>